Robotic Grinding, Sanding and Deburring
- EasyGrinder -
Robotic Grinding
Manual grinding (sanding, slag removal, deburring, removal of oxide-layers, edge-rounding) is expensive and physically taxing.
Our EasyGrinder can automate manual grinding, with the added benefit of a much higher consistency in quality of the finished parts.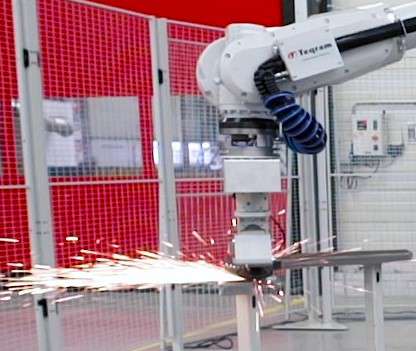 Parts and contours automatically identified with machine vision. No operator programming needed to identify parts.
Typical Applications
Deburring after laser-, plasma or oxy-fuel cutting
Sanding metal parts
Rounding off edges as preparation for coating
Removal of slag and oxide layers after cutting
Key Benefits
Vision Guided Robotics for grinding
Increase Productivity. No more manual grinding
The EasyGrinder identifies the product, its contours and shapes by means of computer vision. The robot picks up the product, selects the right tool for the job and starts. Unmanned production from beginning to end.
Go beyond the possibilities of manual grinding with standard tools
Slag removal, deburring, edge-rounding and removal of oxide-layers with minimal programming by operators. The power of the robot enables grinding procedures impossible for humans. With standard tooling!
Boost Quality and Consistency
Lower total cost of quality. Increased consistency. Even the wear of the abrasive tools is automatically monitored. Machining by robot results in the same high quality level. Every hour, 24 hours a day, 7 days a week.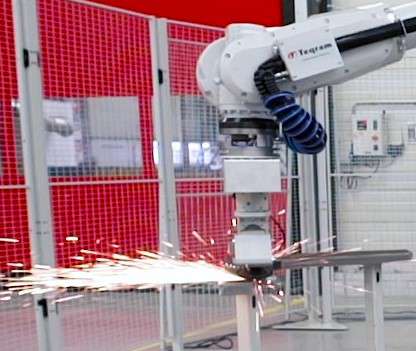 Fully automated deburring, rounding off edges etc
Technical Specifications
The EasyGrinder is our solution for slag-removal, deburring, rounding off edges and removal of oxide layers.
XXL parts (several tons heavy, and many meters long) can be deburred.
Parts can be offered to the robot with a roller-conveyor or placed in the range of the robot with a crane.
Parts can be offered to the robot in bins or on pallets.
Product weights up to 100 kg can be picked and handled by the robot (for systems with high autonomy)
PC based User Interface: Easy to use.
No special knowledge about programming required
Automated gripper change
Different standard EasyGrippers are available, customer specific upon request
A large range of standard, cost effective, grinding tools can be used
Talk to us. We listen.
Looking for a flexible and automated process for slag removal, deburring, rounding off edges etc.?
Give us a call or email: