EasyShotblast: automated shotblasting
Autonomous (un)loading of shot blasting machines.
It is not only about automizing the process – at the same time, the quality is significantly improved while energy consumption is tremendously minimized.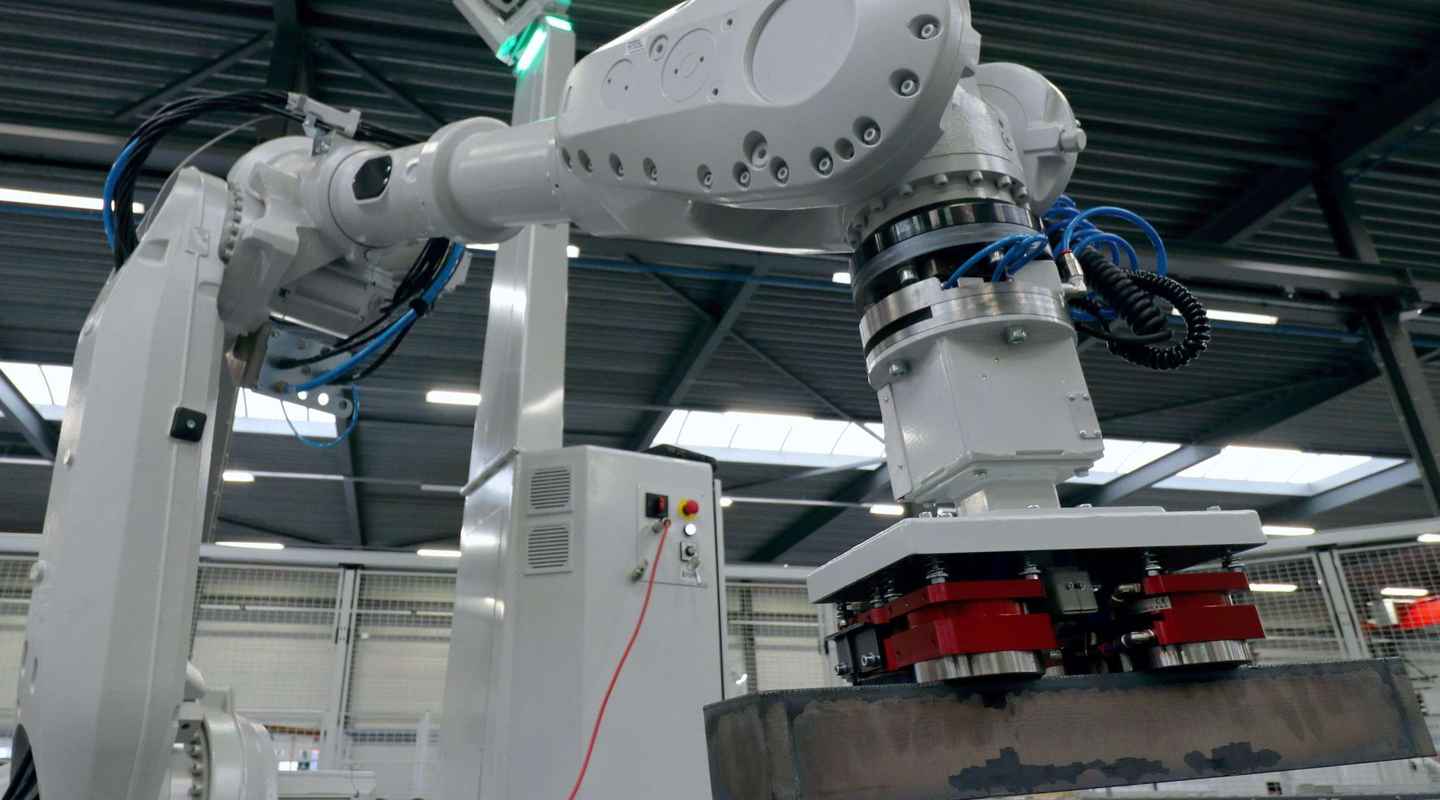 Thanks to visionguided technology, no teaching is necessary!
The robot is working fully autonomous.
Typical applications
Loading / unloading of shotblasting machine
Using the EasyFlipper, the parts can also be turned by the robot
Processing of plasma- and oxyfuel cut parts out of steel, stainless and aluminum
Main-Advantages
Vision-controlled robot for shotblasting machines
Fully autonomous without teaching / programming
Thanks to intelligent, vision-guided robots, the components are independently recognised and suitable grippers are automatically selected.
The user interface is intuitive and requires no special knowledge!
The robot fits seamlessly into existing ways of working
Simply place a pallet with parts in the robot's working area. By using EasyEye, the position of the parts is not relevant - this is detected fully automatically.
This means that even the smallest batch sizes can be processed economically.
Fast, unbeatable quality and energy-efficient (75% savings)
With EasyShotblast you increase your quality! Edges are perfectly finished and there are no shadows from belts or baskets on the underneath side.
At the same time, the energy requirement drops to 25% and with the fast cycle times, the ROI often drops below 2 years!
Technical Data:
EasyShotblast is a solution for loading and unloading blasting machines. It is based on Teqram's modular building blocks and can be adapted to specific applications.
For example, fully automatic turning can be easily integrated, as can simultaneous slag removal and deburring of the workpieces!
The heart of EasyShotblast is our vision-guided robot: the EasyBot.
An EasyBot exists out of the following components:
An EasyEye, our patented 3D vision controller
An industrial robot manipulator with 6 axes, 3.05 m reach and the ability to handle products up to 100 kg
Modular base (easy to transport and place) with all electronics and safety components
EasyIO: distributed IO and control
EasyFlexibleFramework: software framework for vision-guided robotics
PC based User Interface: Easy to Use, no PLC needed.
Gripper-change adaptor (robot-side) with data, electrical and pneumatic connections
And much more…
Due to our vision technology, an EasyBot can deal with low-volume high variety production challenges. In comparison with conventional robot-solutions, an EasyBot facilitates an extreme reduction in programming times.
EasyShotblast can be configured for any shotblasting machine (using our EasyFlipper to flip parts automatically when necessary).
Talk to us. We listen.
Looking for a robot to load or unload you shotblasting machine?