EasyFlipper
The patented EasyFlipper turns parts upside down within seconds. This solves a number of problems. In industrial operations, heavy (steel) parts are typically inverted using a crane with a plate-clamp or by means of a crowbar. This is time consuming, requires strenuous physical effort and is dangerous. In addition, there is a good chance that the part will be scratched and hence rejected. For inquiries: sales@teqram.com.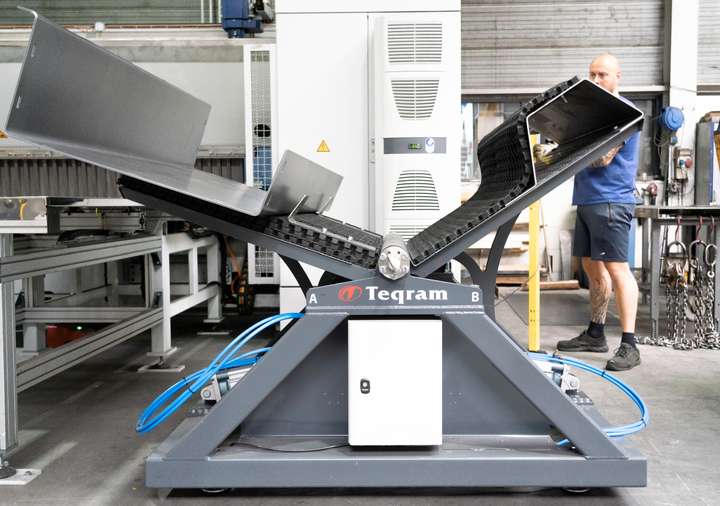 EasyFlipper: Turn heavy parts in seconds
Typical Applications
load rotation of heavy products
flipping oxy-fuel-cut or plasma-cut metal parts (e.g. to get the burrs facing upwards)
rotating steel or aluminum next to a CNC machining centre (to machine the opposite surface)
turning heavy laser-cut shapes next to a press-brake
to view top & bottom sides of a metal part for quality inspection purposes
invert tear-drop plates
flipping heavy cut-shapes to fulfill customer packing requirements
With the possibility to combine 2 or more Heavy Duty EasyFlippers, even heavy XXL parts can be turned upside down within seconds
Heavy XXL parts flipped upside down in seconds
2 Heavy Duty EasyFlippers combined turn products >7 m long and with a weight up to 1500 kg upside down within seconds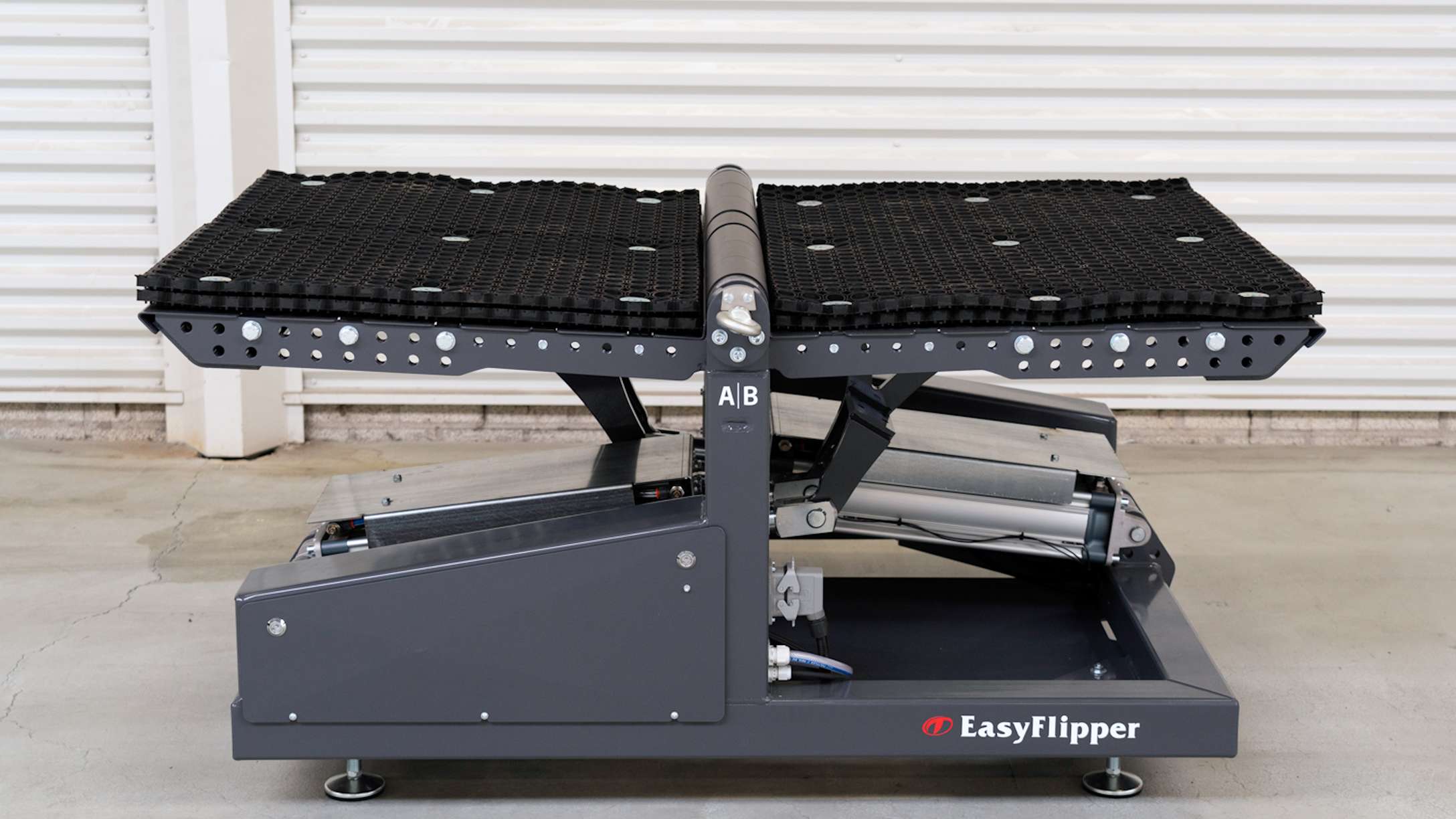 Specifications
The main specifications of the standard EasyFlipper are:
Maximum part size: 1200 x 800 x 100 mm
Maximum part weight: 750 kg
Cycle time: less than 5 seconds
Flipper arms have fitted with a rubber mat to prevent scratches
Easy manual control and/or integration with our vision guided robots
230 V / 6 bar air pressure
Two or more EasyFlippers can work simultaneously to invert even heavier or larger parts. The modular design allows us to adapt the EasyFlipper to customer specific requirements.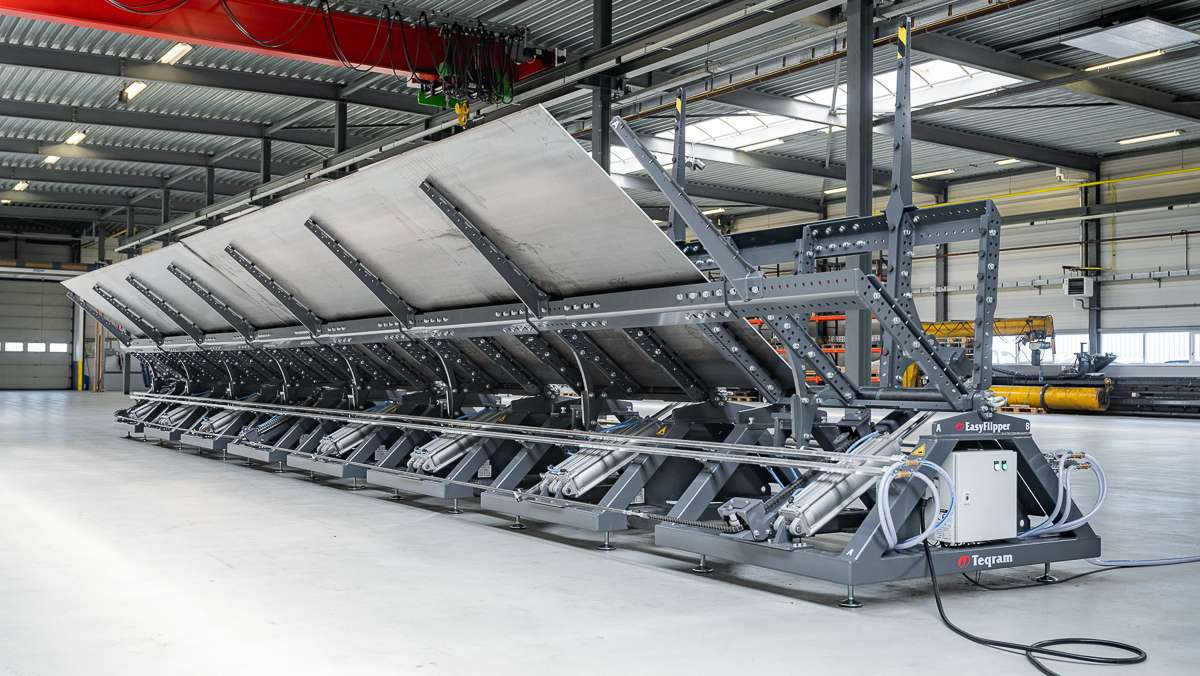 8 EasyFlippers combined to handle large sheet and plate metal products. The large products can be safely flipped within seconds.
Hydraulic EasyFlipper
Capacity up to 2000 kg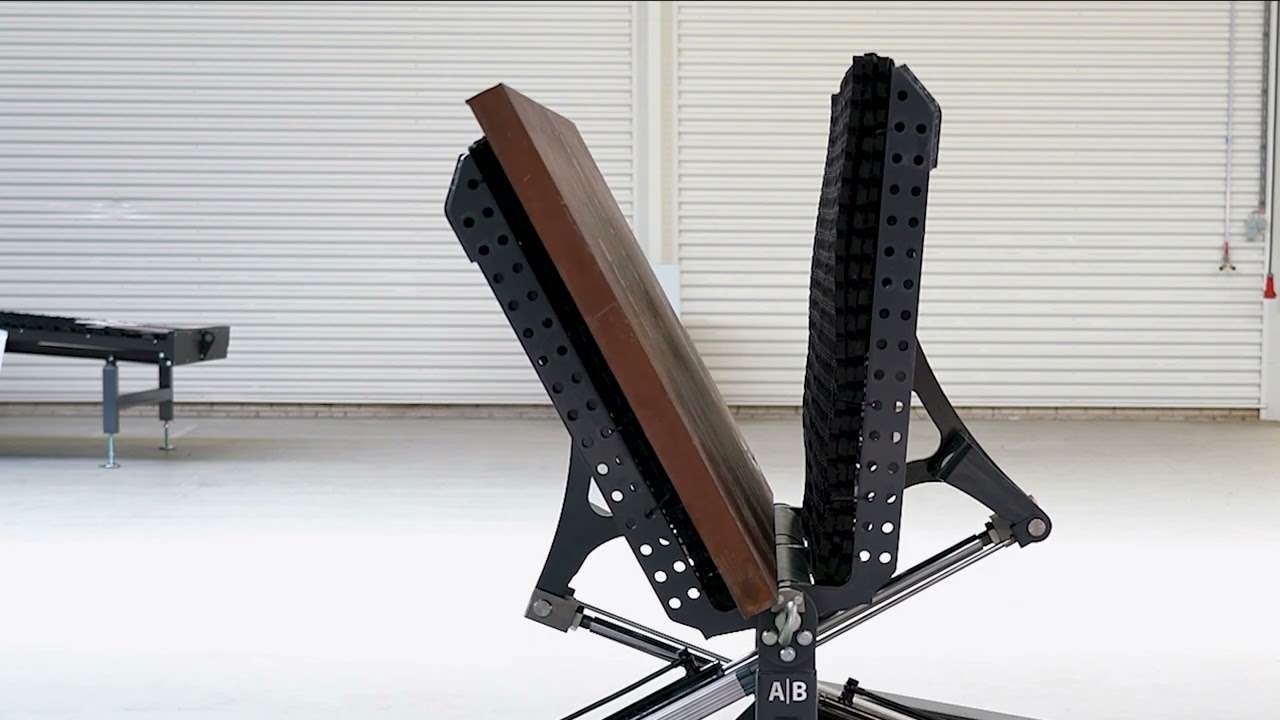 With a capacity up to 2000 kg, the Hydraulic Flipper is a real heavy weight.
This EasyFlipper is suitable for situations where heavy loads needs to be turned around like oxyfuel or plasma cut plate metal parts.
The Hydraulic EasyFlipper has all the benefits the standard Flipper already has like:
Quick and safe flipping (rotating) of heavy products
Standard table size 1200 x 800 mm
Rubber mats to prevent scratches
Easy manual operation and/or integrated with our Vision Guided Robotics
Unique features
For suitable applications, the EasyFlipper is a 'no-brainer'.
Speed
Inverts parts within 5 seconds. The fastest, and patented, solution to turning heavy parts on the planet.
Safety
Manually rotating heavy parts (by crane, crowbar or by hand) can cause serious physical injury. Put safety first by investing in the EasyFlipper.
ROI
Reduce manhours and increase physical distancing by mechanizing or automating the flipping of parts. The competitive pricing of the EasyFlipper ensures an attractive ROI.
Invest in an EasyFlipper !
Invert parts quickly and safely